Micron Power Resistors
RG ALLEN Micron Power Resistors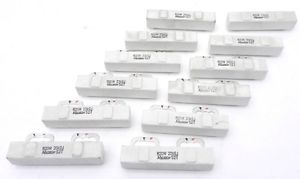 Resistors required to dissipate substantial amounts of power, particularly used in power supplies, power conversion circuits, and power amplifiers, are generally referred to as power resistors; this designation is loosely applied to resistors with power ratings of 1 watt or greater. Power resistors are physically larger and may not use the preferred values, color codes, and external packages.
The Micron Power Resistor is a good solution for many types of power and control applications. Typical applications include small electric motor controls, industrial machinery, power supplies, welding equipment, plasma cutters, fluid dispensing and monitoring systems and controls, outdoor and under water lighting, loudspeakers, and audio amplifiers.
We are committed to supplying power resistors that meet the requirements and specifications requested by our customers. With a broad product range, we aim to be your supplier of choice for power resistor products.
Detection resistor
Name, feature, picture
Rating
Power
Abbreviation
(Unit mm)
Resistance value range
tolerance
RoHS
W x D x H
P
Ω
~
Ω
Model RKP (Space saving low price type)

2w
4.5 x x 13
12.5
10 m
~
40 m
J (± 5%)
Correspondence
2w
4.5 x x 14
Ten
10 m
~
40 m
J (± 5%)
Correspondence
3w
4.5 x x 21
12.5
10 m
~
50 m
J (± 5%)
Correspondence
3w
4.5 x x 22
Ten
10 m
~
50 m
J (± 5%)
Correspondence
RQP type (large current · 4 terminals · extremely low resistance type)

6w
16.7 x 14.5 x 25
2 m
~
20 m
G (± 2%)
Correspondence
8w
16.7 x 19.5 x 25
1 m
~
10 m
G (± 2%)
Correspondence
RRP type (4 terminal 2 in 1 cryogenic resistance relative resistance difference limited type)

16 w (8 w x 2)
29 × 18.5 × 33.5
1 m
~
20 m
G (± 2%)
Correspondence
24 w (12 w x 2)
48 × 18 × 34.5
0.5 m
~
20 m
G (± 2%)
Correspondence
RLP · MNP type (low price type)

2w
16 × 8 × 16
Five
10 m
~
80 m
J (± 5%)
Correspondence
2w
12 × 8 × 22
Five
10 m
~
80 m
J (± 5%)
Correspondence
3w
13 x 9 x 26.5
Five
10 m
~
100 m
J (± 5%)
Correspondence
5 w
14 × 10 × 26.5
Five
10 m
~
80 m
J (± 5%)
Correspondence
7w
14 × 10 × 40
Five
20 m
~
140 m
J (± 5%)
Correspondence
10 w
17.2 x 13.2 x 36.5
7.5
10 m
~
80 m
J (± 5%)
Correspondence
15w
21.2 x 14.2 x 39.5
7.5
10 m
~
90 m
J (± 5%)
Correspondence
20 w
21.2 x 14.2 x 46.5
7.5
20 m
~
110 m
J (± 5%)
Correspondence
RHP · REP type (compact · 4 terminal type)

2w
10.5 x 8 x 7.5
5.2 m
~
28 m
H (± 3%)
Correspondence
2w
10.5 x 8 x 7.5
29 m
~
63 m
H (± 3%)
Correspondence
Safety circuit resistor
Name, feature, picture
Rating
Power
Abbreviation
(Unit mm)
Resistance value range
tolerance
RoHS
W x D x H
P
Ω
~
Ω
ME type (built-in thermal fuse)

2w
12 × 8 × 22
Five
0.15
~
13k
J (± 5%)
Correspondence
3w
13 x 9 x 26.5
Five
0.27
~
22k
J (± 5%)
Correspondence
5 w
13 x 9 x 26.5
Five
0.3
~
27k
J (± 5%)
Correspondence
7w
14 × 10 × 40
Five
0.47
~
1.5k
J (± 5%)
Correspondence
Model CEG
(Built-in thermal fuse +
Smoke emission reduction type)


5 W · 7 W

5 w
13.8 x 10 x 25
Four
0.2
~
530
J (± 5%)
Correspondence
7w
14 × 17.8 × 25
Four
0.4
~
1k
J (± 5%)
Correspondence
RTM type (resistor with thermal fuse)

*

* When used for repairing electric blankets, carpets etc. Please contact the manufacturer as you ask.

2w
18.5 x 13 x 8
100
~
20k
J (± 5%)
Correspondence
2w
18.5 x 18 x 8
J (± 5%)
Correspondence
2w
17 × 15 × 8
J (± 5%)
Correspondence
Model LTRII (linear thermistor)

10 × 16 × 7.3
~
J (± 5%)
Corr
Name, feature, picture
Rating
Power
Abbreviation
(Unit mm)
Resistance value range
tolerance
RoHS
W x D x H
P
Ω
~
Ω
Model MN (Space saving type)

2w
12 × 8 × 22
Five
0.15
~
20k
J (± 5%)
Correspondence
3w
13 x 9 x 26.5
Five
0.24
~
39k
J (± 5%)
Correspondence
5 w
14 × 10 × 27
Five
0.3
~
51k
J (± 5%)
Correspondence
7w
14 × 10 × 40
Five
0.51
~
100k
J (± 5%)
Correspondence
10 w
17.2 x 13.2 x 36.5
7.5
1
~
1k
J (± 5%)
Correspondence
15w
21.2 x 14.2 x 39.5
7.5
1
~
2k
J (± 5%)
Correspondence
20 w
21.2 x 14.2 x 46.5
7.5
1
~
3k
J (± 5%)
Correspondence

Model MNG 07D (Low profile, High withstand capacity, Low price type)


7w
18.3 x 14.0 x 25.0
7.0
0.40
~
1k
J (± 5%)
Correspondence

MNG 07E type For high withstand precharge

7w
17.5 × 9 × 28
8.0
0.6
~
1k
J (± 5%)
Correspondence

CGG 07 low profile high withstand precharge

7w
26 × 13.5 × 17
twenty one
0.4
~
1k
J (± 5%)
Correspondence
Model CNG (overload smoke pole reduction type)


5 W · 7 W

5 w
13.8 x 10 x 25
Five
0.2
~
530
J (± 5%)
Correspondence
7w
17.8 x 14.0 x 25.0
7
0.4
~
1k
J (± 5%)
Correspondence
MNM type (Thin type · High resistance compatible)

5 w
15.8 x 6.5 x 30.5
7
1
~
100
J (± 5%)
Correspondence
5 w
15.8 x 6.5 x 30.5
7
101
~
1 M
J (± 5%)
Correspondence
MS type (axial lead type)

2w
18.7 x 7.4 x 7.4
-
0.15
~
20k
J (± 5%)
Correspondence
3w
23.5 x 9 x 10.3
-
0.24
~
39k
J (± 5%)
Correspondence
5 w
23.5 x 10.5 x 10
-
0.3
~
51k
J (± 5%)
Correspondence
7w
36.5 x 10.5 x 10
-
0.51
~
100k
J (± 5%)
Correspondence
10 w
49.5 x 10.5 x 10
-
1
~
150k
J (± 5%)
Correspondence
15w
49.5 x 13.7 x 13.7
-
1
~
200k
J (± 5%)
Correspondence
20 w
65.5 x 13.7 x 13.7
-
1
~
240k
J (± 5%)
Correspondence
Model MG (heat conduction reducing type to substrate)

2w
18.7 x 7.4 x 8.9
-
0.15
~
20k
J (± 5%)
Correspondence
3w
23.5 x 9 x 10.3
-
0.24
~
39k
J (± 5%)
Correspondence
5 w
23.5 x 10.5 x 12
-
0.3
~
51k
J (± 5%)
Correspondence
7w
36.5 x 10.5 x 13.7
-
0.51
~
100k
J (± 5%)
Correspondence
10 w
49.5 x 10.5 x 10
-
1
~
150k
J (± 5%)
Correspondence
Model MH (lug terminal type)


There are also products of terminal type Faston terminal type.
MF type (Faston terminal type)

10 w
10.5 x 49.5 x 10.5
36
1
~
150k
J (± 5%)
Correspondence
15w
13.7 x 49.5 x 13
34
1
~
200k
J (± 5%)
Correspondence
20 w
13.7 x 65.5 x 13.7
49.5
1
~
240k
J (± 5%)
Correspondence
25 w
17.2 x 65.5 x 17.2
46.5
1.2
~
3.6k
J (± 5%)
Correspondence
30 w
20.5 * 77.5 * 20.5
56
1.5
~
4.0k
J (± 5%)
Correspondence
40 w
20.5 x 92.5 x 20.5
71
1.8
~
5.6k
J (± 5%)
Correspondence
MP · MQ type (substrate temperature reduction type)

3w
10 × 25.2 × 23.5
13.5
0.22
~
39k
J (± 5%)
Correspondence
5 w
10.5 x 28.5 x 24
16
0.47
~
51k
J (± 5%)
Correspondence
7w
10.5 x 36.5 x 24
23.5
0.68
~
100k
J (± 5%)
Correspondence
10 w
10.5 x 49.5 x 24
36
1
~
150k
J (± 5%)
Correspondence
15w
13.7 x 49.5 x 34.5
32.5
1
~
200k
J (± 5%)
Correspondence
20 w
13.7 x 65.5 x 34.5
51.5
1
~
240k
J (± 5%)
Correspondence
TCR type capacitor balance
Discharge type

5 w
10.5 x 36.5 x 10.5
twenty two
100
~
51k
J (± 5%)
Correspondence
7w
10.5 x 49.5 x 10.5
29.6
200
~
100k
J (± 5%)
Correspondence
10.5 x 49.5 x 10.5
33
J (± 5%)
Correspondence
10 w
13.7 x 49.5 x 13
29.6
200
~
150k
J (± 5%)
Correspondence
13.7 x 49.5 x 13
33
J (± 5%)
Correspondence
CDR type (capacitor balance ·
Discharge type multi pitch)

15w
13.7 x 49.5 x 19
M5
510
~
200k
J (± 5%)
Correspondence
13.7 x 49.5 x 19
M6
J (± 5%)
Correspondence
20 w
13.7 x 65 x 19
M5
510
~
240k
J (± 5%)
Correspondence
13.7 x 65 x 19
M6
J (± 5%)
Correspondence
MB type (burring terminal type)

15w
13.7 x 49.5 x 25.5
15 m
~
27k
J (± 5%)
Correspondence
20 w
13.7 x 65.5 x 25.5
5.5 m
~
55k
J (± 5%)
Correspondence
30 w
20.5 x 77.5 x 34
5.0 m
~
110k
J (± 5%)
Correspondence
40 w
205 x 92.5 x 34
5.0 m
~
180k
J (± 5%)
Correspondence

CW · CH type (cooling dependent type resistor)


0 w
40 × 115 × 20
-
0.8
~
6.9k
J (± 5%)
Correspondence
80 w
40 x 140 x 20
-
1.1
~
11.4k
J (± 5%)
Correspondence
100 w
40 x 165 x 20
-
1.4
~
16.0 k
J (± 5%)
Correspondence
120 w
40 x 190 x 20
-
1.8
~
20.5k
J (± 5%)
Correspondence
150 w
40 x 215 x 20
-
2.1
~
25.1 k
J (± 5%)
Correspondence
200 w
50 x 215 x 25
-
0.9
~
43.7k
J (± 5%)
Correspondence
200 w
60 x 150 x 30
-
0.7
~
21.1k
J (± 5%)
Correspondence
250 w
50 x 240 x 25
-
1
~
47.1k
J (± 5%)
Correspondence
250 w
60 × 165 × 30
-
0.8
~
26.6k
J (± 5%)
Correspondence
300 w
60 x 215 x 30
-
1.3
~
44.8k
J (± 5%)
Correspondence
400 w
60 x 265 x 30
-
1.7
~
63k
J (± 5%)
Correspondence
500 w
60 x 335 x 30
-
2.3
~
88.5k
J (± 5%)
Correspondence
MR type (inexpensive large cement resistor)

80 w
44.4 x 132 x 20
-
0.08
~
4.8k
J (± 5%)
Correspondence
120 w
42.6 x 182 x 20
-
0.1
~
13.6k
J (± 5%)
Correspondence
220 w
60.4 x 230 x 20
-
0.2
~
21.1k
J (± 5%)
Correspondence
MY type (large cement resistor aluminum die-cast type)

60 w
64.6 x 91 x 20.
-
0.06
~
5.4k
J (± 5%)
Correspondence
80 w
34.8 x 151.5 x 20.8
-
0.16
~
9.2k
J (± 5%)
Correspondence
120 w
42.8 x 183.5 x 20.8
-
0.1
~
13.6k
J (± 5%)
Correspondence
220 w
60.8 x 231.5 x 20.8
-
0.1
~
21.1k
J (± 5%)
Correspondence
Model RG (Thin aluminum casing resistor)

40 w
36 x 62.1 x 10.5
-
1.7
~
4.8k
J (± 5%)
Correspondence
60 w
41x71x11
-
1.1
~
5.7k
J (± 5%)
Correspondence
80 w
46 × 100 × 11
-
0.9
~
14.0 k
J (± 5%)
Correspondence