RG ALLEN is IBS ELECTRONICS Capacitors Resistors Varistors
RG ALLEN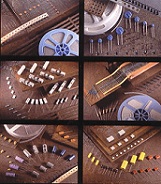 RG ALLEN manufactures passive products:
The company offers a diverse range of products that encompass Aluminum Electrolytic Capacitors, Multiple-Layer Ceramic Chip (MLCC) Capacitor/Array, Chip-Resistor/Array & Networks, Tantalum Electrolytic Capacitors, Disc Capacitors, Varistors, Thermistors, and Chip Fuse. With this comprehensive product lineup, we aim to meet various electronic component needs and provide solutions for a wide range of applications.
RG Allen is committed to delivering a reliable passive component solution to global value customers with quality, and competitive services. RG Allen offers performance resistors including: Non-Inductive Power Resistors, Current Sense Resistors, High Voltage Resistors, Precision Resistors, Precision Resistor Networks, Matched Resistor Sets, and Custom Resistor Devices. RG Allen is your supplier for capacitors, resistors (thermistors), and varistors.
The Company mission is competitively priced, high-quality passive components for critical applications.

RG ALLEN is IBS ELECTRONICS COMPANY.
IBS Electronics Group:
Founded in 1980, the primary goal of the company has been to provide outstanding service to E.M.S's and O.E.M's. In 1983 IBS reformat itself as corporation that markets electronic components for high tech industries worldwide. IBS is a privately held corporation with a steadfast commitment to quality, service and fast deliveries. With over half a century of combined management experience in electronics design, IBS Group has become a recognized electronic components supplier worldwide.
IBS Electronics has been a leading supplier of advanced power solutions to companies in the United States and abroad. IBS Electronics strive to deliver innovative and cost effective design solutions, while providing best in class support. IBS Electronics is an electronic components distributor offering semiconductors, passives, interconnects, electromechanical, power supplies, test and measurement equipment. If You are looking for RG ALLEN parts please contact IBS Electronics (1-800-717-6475)