Varistors
RG ALLEN Varistors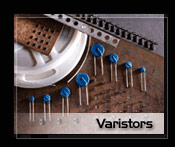 Varistors are increasingly used as the front-line solution for transient surge protection. RG Allen metal oxide varistors are used for protection of small machinery, power sources and components.
Unlike the fuse or circuit breaker which offers over-current protection, the varistor provides over-voltage protection by means of voltage-clamping in a similar way to the zener diode. The Metal Oxide Varistor or MOV for short, is a voltage dependant resistor in which the resistance material is a metallic oxide, primarily zinc oxide (ZnO) pressed into a ceramic like material. Metal oxide varistors are now the most common type of voltage clamping device and are available for use at a wide range of voltages and currents. The use of a metallic oxide within their construction means that MOV's are extremely effective in absorbing short term voltage transients and have higher energy handling capabilities.
The quality of our varistors is an essential part of corporate strategy. For us, quality means providing products and services that offer maximum benefit to our customers worldwide as well as to understand the needs and expectations. Quality also means ensuring competitiveness.

Features
Fast response
Excellent voltage ratio
High stabilization for circuit voltage
Unparalleled absorption for transient voltage characteristics
Bilateral and symmetrical V-1 characteristics curve
Applications
Surge Protection in consumer electronics
industrial electronics
telephone and telecommunication systems
automobile equipment
measuring and controller systems
electronic home appliances
gas and petroleum appliances
Absorption of switching surge from various kinds of relays and electro-magnetic valves.
Electrostatic discharge and spike noise suppression.
Protection of various kinds of transistors, diodes, ICs, thyristors, triac semiconductors, etc.
Automobile control system such as transistorized ignition system and electronic fuel injection system, etc.