Ceramic Capacitors
RG ALLEN Ceramic Capacitors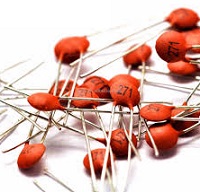 RG Allen specializes in providing ceramic capacitors, varistors, SMSC ceramic capacitors, and other related components. Their ceramic capacitors find applications in a wide range of industries, including smart meters, new energy systems, carrier communication modules, automotive electronics, industrial control, intelligent home appliances, communication equipment, green lighting, and low-carbon power solutions. RG Allen's products are designed to support these industries by offering reliable and high-quality electronic components.
Capacitors are integral components present in a wide array of electronic applications, systems, and circuits. Among the various types of capacitors, multilayer ceramic capacitors stand out as the most commonly produced and widely utilized in electronic devices. These capacitors are prevalent in numerous industries, including commercial, scientific, medical, industrial, and various other fields where electronics play a crucial role.
A ceramic capacitor is a specific type of capacitor that utilizes ceramic material as the dielectric. It consists of alternating layers of ceramic and metal electrodes, which determine its electrical characteristics and potential applications. Ceramic capacitors are known for their low parasitic effects and exceptional electromagnetic interference (EMI) filtering capabilities. In a multilayer configuration, they offer high capacitance values and are available in a range of voltage ratings suitable for diverse temperature conditions. Various styles of ceramic capacitors are available, including MLCC chips, leaded capacitors, stacked capacitors, and capacitors with unique geometries.
RG Allen features wide capacitance ranges available in many popular sizes. See individual product pages for detailed capacitance specifications or contact one of our Sales Representatives for additional information.

Overview
Performance: excellent performance of discharging
Characteristics: small size, high withstand voltage
Capacitance Tolerance: 5% J, 10%K , 20% M
Product Application: For new energy, smart meters, carrier communication module, automotive electronics,industrial control,intelligent home appliances,communication equipment, green lighting,low-carbon power and other complete machine customers.
Radial Multilayer Ceramic Capacitors
Epoxy Coated Radial Leaded Multilayer Ceramic Capacitor
Features
Small size, big capacitance from 1pF to 1uF with no polarity. Suitable for taking place of aluminum electrolytic capacitors if only the smaller installation space is available.
The internal electrodes are built inside dielectric then sealed with resin. This structure makes the capacitors highly reliable.
Due to ceramic intrinsic excellent frequency characteristic, it can serve in high frequency applications.
As the epoxy powder is applied for coating, this product shows excellent resistance to humidity, and no change in the appearance of capacitor surface during soldering or solvent cleaning.
Datasheets:
Axial MCCF5-6 Capacitor
Index Ceramic Capacitor
Capacitor CeramicDCF7-13opt
CeramicSCF14-17 Capacitor
Radial MCCF2-4 Capacitor